Sign Up to Receive Weekly Cyber Security Tips & Insights During National Cyber Security Awareness Month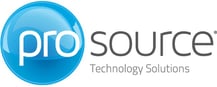 Protect Yourself Online with Weekly Cyber Security Tips & Insights from Prosource
National Cybersecurity Awareness Month (NCSAM) was launched by the National Cyber Security Alliance & the U.S. Department of Homeland Security in October 2004. Since its inception, NCSAM has grown exponentially, reaching consumers, small and medium-sized businesses, corporations, educational institutions, and young people across the nation.
This year, NCSAM focuses on the role each individual plays in maintaining online safety, emphasizing personal accountability and stressing the importance of taking proactive steps to enhance cyber security both at home and in the workplace.
At Prosource, we believe your organization's security is only as strong as its weakest link. So for NCSAM 2019, we're taking a more personal approach to cyber security awareness.
Starting October 2, we'll send a weekly email with accessible, engaging, and empowering cyber security tips and insights across five themes to help you stay protected against cyber threats:
Week 1: Email Security
Week 2: Ransomware
Week 3: Passwords
Week 4: Maintenance and Patching
Week 5: Mobile Security
Subscribe via the form, and share with your employees and colleagues to promote cyber security best practices across your organization and beyond.